Contact Us
The AdC magazine website is an extension of Affaire de Coeur magazine - a mainstay of the San Francisco Bay Area publications that has provided reviews since 1980. AdC was voted one of the Top Ten Publications in the Bay Area, received an Eppi Award, and featured in Writers Market. Our reviewers at AdC keep you updated on the latest fiction. In addition, we offer in-depth interviews of your favorite authors, educational and entertaining articles, news, trivia, contests, and hundreds of reviews. Every issue of Affaire de Coeur is full of fun and surprises.
Corporate Office Affaire de Coeur
3976 Oak Hill Road
Oakland, CA 94605

Office Hours Corporate Office 9-5 PM (PST)
Phone: 1-510-569-5675
FAX: 1-510-632-8868

E-mail: louisesnead@adcmagazine.com
Marketing and Advertising Office Hours -- East Coast Office 9-5 PM EST
E-mail: Advertising@AdCmagazine.com
E-mail: PamAckerson@AdCmagazine.com
FAQ
.
1.What is Affaire de Coeur?
Affaire de Coeur magazine, also known as AdC Magazine, is the website for you. Here you can find the latest in reviews of today's books from several different genres. We review everything, all genres, all authors, in all formats. We keep it honest and positive. We have a strict policy and refuse to insult or knock authors down by attacking them. You'll find articles about your favorite authors, marketing ideas, or features about how to write, direct links to author sites, contests, trivia and interviews.
---
2. How can I send a manuscript or galley to Affaire de Coeur?
We make it easy for you. AdC accepts print bound ARCs and pdf/kindle e-ARCs for review. Send requests to louisesnead@adcmagazine.com
ARCs need to be sent at least two months prior to the book release in order for you book to receive a review.
E-books:
Send your request with the PDF of the e-book as an attachment. In the subject line, please state Review Request, release date, and the genre. If your e-book is accepted for review, E-book reviews will be in the next available print magazine issue. We cannot guarantee that an e-book review will be placed in the print magazine by the release date. Review space is limited.
Audio Books:
It depends on how you have your audio book, whether it be as a disk, flash drive, or gift code. We have an audio reviewer waiting for you.
Send requests to louisesnead@adcmagazine.com
Print bound ARCs:
To expedite sending the ARC to the correct reviewer, please identify the genre on the outside envelope so we know which reviewer to send your book to. We find it very important to send ARCs to readers who enjoy your genre. It wouldn't do any of us or you any good to send a book to a reviewer who doesn't like to read the genre you have written your book in. Send your ARCs asap or at least three months prior to your release date to:

Affaire de Coeur
3976 Oak Hill Road
Oakland, CA 94605

We will review books after publication, depending on when the book was released. You may request a review with an ad or accepted article if there is space available in the magazine. This does not guarantee a review, not does it guarantee a high rated review. We strive to continue to give our readers honest book reviews.
3.Where can I find a copy of my review?
You can get it a number of ways:

a: Some reviews will be featured on our web site as well as in the print or PDF magazine.

b: If you are a Coeur Club member, have taken out an ad either in the magazine or on our web site, it will be posted on our web site.

c: If you are a subscriber to Affaire de Coeur magazine and need an advanced copy of your review, we'll be happy to send it to you. Please let us know that you're a subscriber.
d: You may get a copy of your review from your publisher.

e: You may purchase a copy or copies of Affaire de Coeur magazine (print or pdf) either from our web site or by phone.
---
4.Where can I get a copy of Affaire de Coeur ?
Pirnt supplies are limited. You can get it a number of ways:

a: You may order a copy of Affaire de Coeur at most major book stores.
b: You may purchase a copy or copies of Affaire de Coeur either from our web site or by phone.
---
Affaire de Coeur Privacy Policy
Personal Identifiable Information:
These declarations were made in preparation for the EU's new data privacy law, the General Data Protection Regulation (GDPR).

Affaire de Coeur would like to clarify our commitment to the protection of your privacy and data security.
This is the Affaire de Coeur's privacy policy explaining how we handle Personally Identifiable Information and how it is being used online.
The Personal Identifiable Information, as described in US privacy law and information security, is information that can be used on its own or with other information to identify, contact, or locate a single person, or to identify an individual in context.
Please read our privacy policy carefully to get a clear understanding of how we collect, use, protect or otherwise handle your Personally Identifiable Information in accordance with our website.

What personal information do we collect from the people that visit our website? We do not have any programs that pull or collect information from you.

When ordering on our site you will be asked to enter your email address, or you will be sent to a PayPal address, or contact us to use the Square. (Credit Card Purchase)

When do we collect information?
We only collect information from you. If you don't give it to us, we don't get it. We collect information from you when you place an order on our site, enter our contests, request to purchase a subscription, or sign up for our newsletters.

How do we use your information?

We use your information to process your transactions or to add you to our subscription lists.
Affaire de Coeur only send emails for newsletters approximately once a month, subscriptions bi-monthly regarding your order and/or regarding our services.

How do we protect your information?

Your personal information is contained behind secured networks and is only accessible by a limited number of persons who have special access, and are required to keep the information confidential. In addition, all sensitive/credit information you supply is encrypted via Secure Socket Layer (SSL) technology with PayPal and/or Square. They have strict security measures when a user places an order to maintain the safety of your personal information.


Do we use 'cookies'?

Yes. Our website uses cookies to compile aggregate data about site traffic and site interactions in order to offer better site experiences and tools for the future. At this time, we don't use third-party services that track this information on our behalf.

You can choose to have your computer warn you each time a cookie is being sent, or you can choose to turn off all cookies. You do this through your browser settings. Since each personal browser is a little different, search for your browser's Help Menu to learn the correct way to modify your cookies.

If you turn cookies off, it shouldn't/won't affect the user's experience.

Third-party disclosure

We do not sell, trade, or otherwise transfer to outside parties your Personally Identifiable Information.


California Online Privacy Protection Act

According to CalOPPA, we agree to the following:

You will be notified of any Privacy Policy changes on our Privacy Policy Page. You can change your personal information by emailing us.

We do not allow third-party behavioral tracking

COPPA (Children Online Privacy Protection Act)

We do not specifically market to children under the age of 13 years old.

CAN SPAM Act

The CAN-SPAM Act is a law that sets the rules for commercial email, establishes requirements for commercial messages, gives recipients the right to have emails stopped from being sent to them, and spells out tough penalties for violations.

We collect your email address in order to process orders and to send information and updates pertaining to orders.

To be in accordance with CANSPAM, we agree to the following:

If at any time you would like to unsubscribe from receiving future emails, you can email us with Remove in the subject line
and we will promptly remove you from ALL correspondence.

Contacting Us

If there are any questions regarding this privacy policy, you may contact us. LouiseSnead@AffairedeCoeur.com
Louise Snead
Publisher/Editor-in-Chief
Lanelle Brent
Copy Editor
Lanelle was a military brat who lives in Northern California, but was born in Tuskegee, Alabama. Her father was the first Tuskegee Airmen of the famed Black fighter pilots of WWII. She spent many years working as a paralegal for a private law firm, then the CA State Assembly before retiring and becoming a full-time copy editor from home. This enables her to travel with her mother to help educate youth and community groups about the legacy of the Tuskegee Airmen. Even though she was born in Alabama and educated in various states and overseas, Lanelle proudly considers West Virginia her home.
Pamela Ackerson
President--Advertising and Marketing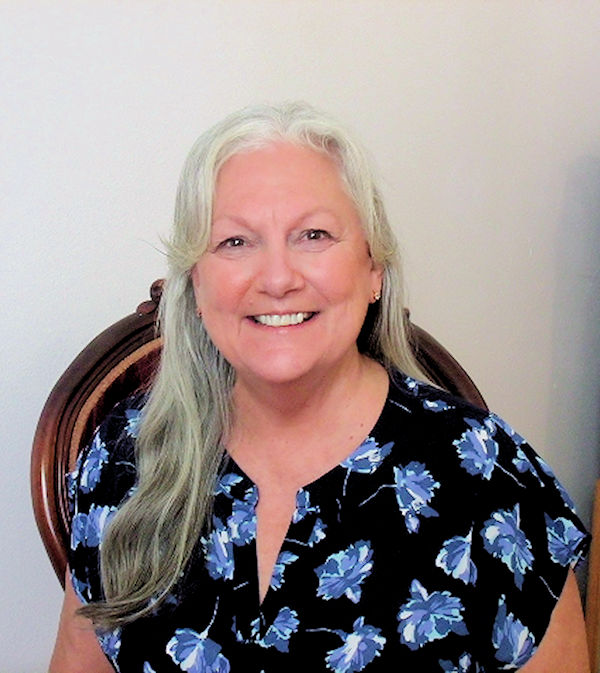 Pam has been with Affaire de Coeur since 2005. She's a multi-genre bestselling author, time traveler, wife, and mother. Living on the Space Coast of Florida, she follows their mantra of reaching for the stars. A hop, skip, and jump from Orlando, where imagination and fantasy abounds. She has worked in restaurants, owned an advertising business, content editor for a publishing house, and owned a ballroom dance studio. Pam is an herbalist and has been involved in the use of treatment with raw herbs for almost 30 years.
Elena Ackerson
Spokesperson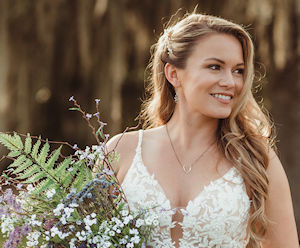 Elena has been the AdC's spokesperson since 2008. Even though Elena no longer models, she prefers being behind the camera. She owns photography business in florida and works full time as a doctor's office manager. She is our AdC Calendar model.
Reviewers:
Mildred Burkett
Lauren Calder
Lauren has been a reviewer with AdC since 2005. She works with real estate and as a photographer in her spare time -- when she is not reading, sewing or crafting, cooking and baking, playing sports, swimming, or anything else that keeps her mind occupied. She enjoys reading all types of fiction and non-fiction. Being a history buff, she favors historical novels that wind history into the fiction romance.
Marilyn Anita Dalrymple
Heather Nordahl Files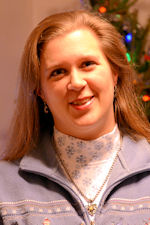 Heather Nordahl Files has had her nose in a book for as long as she can remember. She is proud to be the mom of two beautiful children. When not reading, she enjoys learning her family history, baking, doing yoga, and listening to a wide variety of music. Heather hopes her fourth decade is her best yet.
Sheila Griffin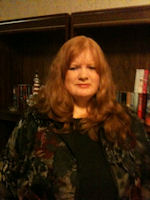 Sheila Griffin has been a reviewer for ADC since 2002. She is married and has three grown children, three amazing grandchildren. Sheila enjoys romantic comedies, time travel, light science fiction and fantasy, especial paranormal romances. She considers humor and happily-ever-after to be a winning combination.
Danielle Hill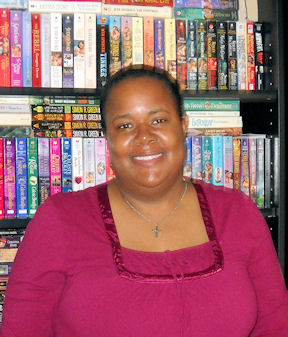 Danielle is a confessed bookworm. She owns thousands of books, more than she can read in her life, and is always willing to add more to her collection. She is a die-hard romantic but she also loves a good fantasy, action, or mystery book. She has a soft spot for a classic horror story or a ghost tale. She loves animals and considers herself an unrepentant crazy cat lady. Her goal is to be a starving artist in addition to her part-time profession, and she is attending school to fulfill that aim. Danielle also likes to make handcrafted greeting cards in her not-so voluminous spare time.
Lacy Hill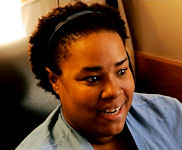 Hi, my name is Lacy (it's really Lacynda)
I have a problem…I am head-over-heels for romance. And I am obsessed with books, ice hockey, swimming, dancing, music, tv, movies, and words. It all started with books, thanks to my mom! See, my earliest and favorite memory is my mom taking my sister and me to the library. When I got those books in my hands I felt like the luckiest little girl in the universe! My sister and I used to wait at the local library to get picked up after school when we were older. So, I had all this extra time and free access to books nearly every day. I still love the library.
First Love from Silhouette teen romances were my favorites. But when I discovered her stash of paperback romance novels in the basement and started sneaking down to read them—game over. LOL!
My mom used to play all genres of music and take us to the movies. Romance…Action/Adventure…
Musicals…Sci-fi/Fantasy. TV's Fame brought me joy with music, dancing, and romance every week. Then came Hallmark Movies! Or any romantic comedy/drama movies. I watch and love them all. Louise refers to me as one-half of the dynamic Hill Sisters. She piles on the praise for my diversity in reviewing. I read everything from contemporary to historical to LGBTQ lit, and I listen to everything on audiobooks.
I'm a freelance writer, editor, and researcher. I love words. So, that tracks. I fell into hockey—my new love—after health issues. Watching Chicago Blackhawks compete in the Stanley Cup Playoffs got me through. I went all in, even dragging my sister with me to their convention. I'm teaching myself to play guitar and write—what else? Love Songs.
Lenore Lovecraft
Lenore is an English grad who loves to read. She has moved over sixteen times in her life but was born in Ohio. Her interests vary so much that it is easier to say what she doesn't like. She is a sassy, fun, scorpio who is ready for any adventure, literary or otherwise, that is thrown at her.

Lettetia Elsasser
I have had a love affair with books for over 50 years, when my oldest brother bought me a copy of Pride and Prejudice. That book opened a whole new world where I could escape to many different locales with many diverse characters. I read across the board from the Bible, Nonfiction, many subgenres of Romance, Mystery/Thriller, and currently Audiobooks. I also enjoy Needlework, Sewing, DIY and Repurposing.
I have been married to my personal Knight in Shining Armor for 24+ years. We are a blended family with 4 beautiful daughters, 8 grandchildren, and 2 very precocious West Highland White Terriers (Westies).
Hannah Rowan
Hannah Rowen is a Jersey girl through and through. Former reporter, published author, mom and grandma, and most of all an avid reader since as far back as she can remember. Hannah is currently working in an assisted living facility and loving every minute. In her "spare time" (Ha!) she enjoys swimming and taking long walks with her husband. Hannah loves to travel to new places as often as possible. She is proud to have the privilege of reviewing books for Affaire de Coeur. Her reading preferences are wide-ranging. Contemporary romance, mystery, suspense, women's fiction.
Angela Shaw
Lani Roberts
Dera Williams
Paul Zunino
Elizabeth Anne
I am a single mother to a wonderful four year old. We read together all the time. My love for books was not love at first sight. My mother loved to read and believed that it was important that I did too. It wasn't long before I fell in love with it, per her insistence. After I caught the "reading-bug" I never stopped. Reading is a big thing in my family. When I was younger my go-to genre was always paranormal, or anything with the slightest bit of magic. Even today it is one of my favorite genres but I do occasionally read things that are outside of my comfort zone.