Julie Anne Long ~~ 4 1/2 and 5 Star Reviews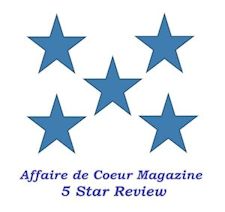 Hot in Hellcat Canyon

Julie Anne Long
Avon
Mass Market
978 0062397614
*****


Britt Langley works two jobs in her home of Hellcat Canyon, California. She's happy with the safety of the life she leads. Then J.T. McCord blows into town. He is a well known actor who was on a successful TV series for many years, but those glory days are behind him. Now, work does not come that easily. He's in the area for the filming of an upcoming series.
Both Britt and J.T. have issues. Britt is slow to trust another man after her marriage went horrifically wrong. J.T. had a rough upbringing and a recent, public breakup with a superstar actress. Still, J.T.'s and Britt's chemistry is stunning and unmistakable. How can they resist acting on it?
From the very first line of this tale, readers will be utterly captivated. Every part of the story is sheer perfection, but the best element is the dialogue, which will makes readers laugh and cry. Julie Anne Long gives readers brilliant twists in a tale that will whet appetites for a return visit to Hellcat Canyon.
Heather Nordahl Files
Between the Devil and Ian Eversea
Julie Anne Long
Avon
Mass Market
978 0062118110
*****

Titania "Tansy" Danforth was born in England but has lived in America for many years. Now she's back because her family has died. Her father's cousin, the Duke of Falconbridge, has welcomed her into his home while she seeks a worthy husband to fulfill the terms of her father's will. Tansy is a startlingly beautiful girl who has learned to use her charms to gain the attention of men, and soon the house is filled with bouquets from her admirers. But the man who has captured her attention seems unaffected by her charms.
Ian Eversea is far more interested in worldly widows and courtesans than he is in innocent debutantes, no matter how alluring. At first he makes it clear he does not think much of her. But soon he sees what swirls beneath the surface, and he falls for the real woman, not the façade everyone else seems to see. Unfortunately, a match between them is impossible, for the Duke of Falconbridge hates Ian, and for good reason.
Julie Anne Long's latest "Pennyroyal Green" title is one more perfect pearl in a string of glorious tales. The story can stand alone, but readers who love this one can't go wrong with the earlier titles. Tansy is a sympathetic heroine once her layers begin to peel back. Ian is a delicious hero, and watching him change over the course of the story is an awesome experience. The characters' layers of heartbreak help them eventually understand each other with a clarity that is breathtaking.
Heather Nordahl Files
Julie Anne Long
Avon
Mass Market
978‑0062118073
*****
Jonathan Redmond is the youngest son of the Redmond clan. His father tends to underestimate him, but he has been making investments that are beginning to pay off. He has other ideas that he hopes to put into action, but his funds are tied up at the moment.
Thomasina "Tommy" de Ballesteros moves on the fringes of society. Her mother was a Spanish courtesan, and she is rumored to be the same. In reality, she lives in near poverty and works on her passion--freeing children from dangerous situations. After getting shot on a previous mission, she asks Jonathan to help her. In return, she will give him a strand of pearls to sell, allowing him to invest the proceeds. While they start out as business partners of a sort, their partnership becomes considerably more intimate.
After turning the last page, readers will wish all writers had the ability to spin tales as brilliantly as Julie Anne Long. Everything about this tale, from the characters to the smooth flow of the plot, is just magical. The class differences between Tommy and Jonathan are not minimized, making their pairing more realistic, and their chemistry is phenomenal.
Heather Nordahl Files
A Notorious Countess Confesses
Julie Anne Long
Avon
Mass Market
978‑0062118028
*****
Evie Duggan is a notorious woman. She clawed her way from poverty to success as an opera dancer, then to marriage to an earl. The earl died, earning her the nickname of Black Widow. Most of the estate went to the earl's heir, but she did inherit a house. She and her outspoken maid Henny have moved to Pennyroyal Green. Evie hopes to find a place to belong and begins by attending the local church. She's mesmerized by the handsome vicar but falls asleep during his sermon.
Adam Sylvaine first notices the beautiful woman as she sleeps through his sermon, but then she asks for his help to make friends. He's entranced by Evie, but a scarlet woman is not a suitable choice for a vicar whose living can be taken away at any time. He does his best to keep his distance as the women of Pennyroyal Green test Evie for her worthiness.
This tale is part of a series, and while it stands alone beautifully, reading other tales in the series add even more to an already brilliant story. Julie Anne Long's prose is a joy to read, the characters are exquisitely drawn, and the conclusion is awesome in that it perfectly suits the characters.
Heather Nordahl Files
...7 ...