Opal Carew ~~ 4 1/2 and 5 Star Reviews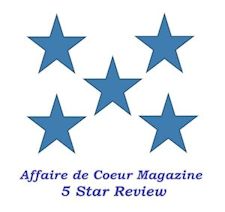 Riding Steele #1: Kidnapped
Opal Carew
St. Martin's Griffin
Trade Paperback
978-1250052841
*****


Laurie has been kidnapped by a rival biker gang. She should be terrified, but instead she is having an unexpected attraction to her captor, Steele. They are on the run from the police and all alone in a secluded cabin. Her provocative attire is not helping his growing desire for her. He must find a way to get out of this without getting into serious legal and love trouble.
You had me with bikers on this one. Honestly, nothing is sexier than a motorcycle and leather. Riding Steele has a good plot that did not get in the way of the more romantic sexy moments. They are also in a good setting for the plot, as well, in the cabin. Seldom do I have no complaints, but this is a home run for me.
Lenore Lovecraft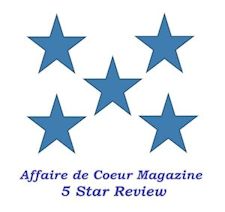 His to Claim
Opal Carew
St. Martin's Griffin
Trade Paperback
978-1250052827
*****


Rafe Ranier, wealthy, gorgeous, immaculate dresser and co-owner of Ranier Industries, in his other life is a jean-wearing, leather jacket, tattooed biker named Storm who plays guitar in a rock band. When their father died and his older brother Dane took over the reins of the family business, Rafe declared his independence and went off to "do his thing" with his band. He went on tour for a year, fell in love, then had his heart broken. His band members didn't know about his wealthy background and only his brother knew of his Storm persona. Then Rafe decided to return home and to the business, only to find that his long-time assistant had quit and was now a barista and the woman who had broken his heart was now engaged to his brother!
Melanie had quietly been in love with Rafe from the first moment she had applied as his assistant. They worked well together and he never failed to pay her a compliment, bring her little presents, etc., but it never went any further than that, no matter how fervently she might have wished it. Then when Melanie discovered that the person Rafe (as Storm) had been in love with was her roommate, that was the final straw. She moved on and became a barista. Now Rafe/Storm was back; bad boy, tattooed rocker with wealthy businessman mixed in, and both of his personas want Melanie. He had been unaware that his ex-love had become Melanie's roommate – not knowing that Storm was the brother of the man she had come to Seattle to work for – and now had to figure out how to explain to Melanie that he had feelings for her, and only her, without coming across as a complete cad. He didn't think she would believe Rafe, but maybe she would believe Storm.
His to Claim is the second in Ms. Carew's hot erotic series about the Dominant Ranier brothers, but the reader won't be lost if you haven't read the first one. Rafe is every woman's dream hero – tender, compassionate, gorgeous, and rich and a tattooed biker bad boy rocker underneath his designer suits. It's a combination hard not to fall in love with and Ms. Carew does an outstanding job with his wooing of Melanie. Once you start reading His to Claim, you won't be able to put it down until the very last satisfying pages.
Lani Roberts
His to Possess
Opal Carew
St. Martin's
Trade Paperback
978-1250030979
****1/2

Jessica Long had had her heartbroken…badly. Her bad boy, tattooed, musician boyfriend Storm had rocked her world for six months. Then, just as suddenly, he walked out of her life. Determined to get past him, she moved to Philadelphia and actively started job seeking, but her heart wasn't really in it. As she was getting ready to go to a job fair, she suddenly spotted Storm in an expensive suit getting coffee. Not knowing why he was there, but knowing she had to let him know how she felt (and beg him to take her back), she stomped up to him, grabbed his arm and called his name…before realizing that it wasn't Storm, but the man she had her next job interview with!
Dane Ranier knew the instant the young lady grabbed his arm in the coffee shop that he wanted to see more of her. The Dom in him immediately recognized the submissiveness in the young lady who, at that moment, was vibrating with suppressed anger, and something else. And it was that something else that he was determined to explore. The fact that she was job hunting at his firm just made it all the better. He could hire her and have her with him whenever he wanted. It was perfect!
Opal Carew has penned an erotic tale of tender domination that will get your heart pounding. Her heroine has been hurt and searching for a new life and finds a hero of infinite patience and understanding who's willing to gently guide her to understanding herself and learn to love and trust again. The story is expertly crafted with fully fleshed out characters who beg the reader to never put this book down.
Lani Roberts
Total Abandon
Opal Carew
Griffin
Trade Paperback
978‑0312674595
*****
Sandra has been divorced for a year now and wants to live life freely. When her friend Aimee asked her to write down her sexual desires, she never dreamed they would, or even could come true. After writing her forbidden fantasies down on a cocktail napkin, while out on a girls' night out, she thought it was just for fun. Once Devlin joins them, she sets all those thoughts aside to have fun. With Devlin so close throughout the night, her passions grow and he makes her want things she has not had in a long time and thinks she can't have. When she finds that her friend Aimee wants to help her with her forbidden fantasies, Sandra says what the hell and agrees to the help. But why would Aimee want to help her with this part of her life?
Devlin is friends with both Sandra and Aimee and has secretly liked Sandra since meeting her about a year ago. So when he meets up with the two woman on a girls' night out and finds the napkin with the sexual desires that Sandra has written down, he wants those fantasies to happen, so that afterwards he can have his chance with her. He asks Aimee to help him give the fantasies to Sandra. But as she checks off each item on her list, he finds he wants her even more.
Opal Carew has given us a story with a sexual fantasies list so hot and desirable it will have most readers writing down their own list, wishing for it to come true. She gives us hot and spicy scenes with such passion you feel you have stepped into the book and can feel every move. It will leave your skin tingling from the fantasy touches of your fantasy lover, or lovers!
Melody Prater
Pleasure Bound
Opal Carew
GriffinTrade Paperback
978‑0312580155
*****

Marie felt she needed a change in her life from the normal guys she dates. The nice, dependable, confident, and pleasant guy. She desired more out of a man; like the feeling of being safe and protected, but dominated, controlled by someone who could master her. After meeting Zeke at her friend's lake cottage, she felt he had all the qualities she desired. By the end of the second day, he had proven to her he is all she wants and more. Once back home, will inviting what she thinks to be her straight-laced neighbor be the end of this relationship with Zeke or the beginning of pleasure beyond anything she could have imagined?
Zeke found himself doing the one thing he promised not to do; fall for and want the same woman over and over. She intrigued him with the way she fell into the role of slave and be dominated. But most of all she just feels so right in every way to him. But when Ty, a friend from his past and Marie's neighbor, is invited into the relationship, can Zeke come to terms with the feelings for him?
Ty was shocked to find his neighbor (the woman he desires) home, but not alone, after her weekend away. Jealousy rose in him, until he found she is with his old and not forgotten friend Zeke. After being asked to join them in the bed, Ty finds he may have feelings for not only Marie, but Zeke, too. Can Marie, Zeke, and Ty come together with the S&M role-playing and make it work as a threesome? Will feelings unexplored now be opened to the point of tearing them apart? Join in the fun, erotic, S&M, and sexually hot works by Opal Carew that pour from every page. With each erotic chapter you will have a whole new view of the meaning to breathless and hot!
Melody Prater
Click on the titles to purchase from Amazon.
...23 ...