HelenKay Dimon ~ 4 1/2 and 5 Star Reviews
Playing Dirty: Bad Boys Undercover
HelenKay Dimon
Avon
Mass Market
978‑0062330055
****1/2
Shay Alexander doesn't know a lot about Ford Decker, her neighbor and new lover, except that he works with computers and often leaves suddenly. She's been burned before by someone who wanted her for her family's money, so it's hard for her to trust. Ford's mysteries bother her, but so far he brings her so much pleasure that she pushes her niggling worries aside.
Shay is right to have doubts, for Ford is not who she thinks he is. He works for a multinational agency, and his latest mission is to stop the release of a deadly toxin that could kill millions. The inventor of this toxin is Shay's cousin, and he has disappeared. Ford's job is to watch Shay to see if she's in on the plot. He did not intend to get so close, but he can't resist, even though he knows he'll break her heart when she learns why he pursued her in the first place.
HelenKay Dimon launches her "Bad Boys Undercover" series with this romantic thriller. The lead characters are well drawn and well matched. The plot moves along at a fast clip, making readers turn the pages at a fevered clip. And there are intriguing secondary characters who demand their own stories.
Heather Nordahl Files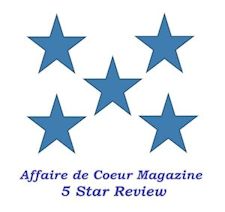 HelenKay Dimon
BravaTrade Paperback
978‑0758229090
*****
Katie Long had had a trouble past. Thanks to her long‑suffering older sister, who had taken over raising Katie when they lost their parents, she was now straight; working for her sister's catering service and living a legitimate life. So how had she ended up in the ladies' room at the big, society wedding her sister was catering, having wild monkey sex with a perfect stranger? Admittedly, the wild monkey sex had been fabulous and the man was absolutely gorgeous; he just wasn't a stranger. Katie knew exactly who he was, but this little interlude was not part of the plan.
Eric Kimura had decided he'd lost his mind. He was the Deputy Prosecuting Attorney with a pristine reputation. His boss had unexpectedly received a job offer in Washington, D.C., and Eric was the likely candidate for the position. To prove to himself and any gossip mongers out there who might think to use his feelings against him in his campaign, Eric decided to attend his ex‑girlfriend Deanna's wedding to Josh, a DEA agent and professional friend of Eric's, to prove he was over her. But Eric found that seeing Deanna coming down the aisle in her wedding gown was a little harder than he had expected, so decided to hang out at the bar instead. How he ended up in the ladies' room with the catering hottie, he had no idea. He knew he wasn't drunk; there was just something about her.
This is a continuation of a series but stands very well alone. Josh and Deanna's story sets the background, but Katie and Eric's love story doesn't really need the preliminary story. Set against the beautiful scenery of Hawaii, it's a tale of the love between a streetwise kid who has grown up and gone straight and a prominent, rich politician who loves her no matter what. The story is beautifully written, and the reader will find herself cheering for the two of them even when they're fighting.
Lani Roberts
Click on the titles to purchase from Amazon.