Elisabeth de Mariaffi ~ 4 1/2 and 5 Star Reviews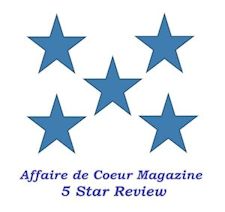 Elisabeth de Mariaffi
Touchstone
Hardcover
978-476779089
*****
Evie Jones has been looking over her shoulder in fear since Lianne Gagnon was murdered. They had been children and best friends when it happened. Now Evie is a rookie beat reporter and she believes Gagnon's murder was pinned on the wrong man and never really solved.
Jones thinks the real killer is still out there and starts doing research to prove it. She investigates every murder involving children form Lianne Gagnon's death to the present. Is there a pattern? In the back of her mind, Evie wonders if the killer is watching her as she gathers what might be clues to the real killer. Childhood friend David Patton helps her find the evidence that will lead to the slayer.
The tension in the story comes from two different directions. First, the killer is really someone they both know, and that person really is watching Evie. Secondly, when the gathered evidence reveals who that person is, neither Evie nor David wants to believe it. That may cost Jones her life. Thinking the data is wrong, they continue to search for information. Bad idea. Evie will end up in the killer's house while looking for more clues and her life will be in danger.
The Devil You Know is well done, and the clues to the real killer are only very slowly revealed so as to tease the reader. It is not fast moving, but there is a lot of tension, and the killer's identity is someone you would have never guessed.
Click on the titles to purchase from Amazon.
...21 ...