The Latest Reviews from Affaire de Coeur



***Great savings!
Order 6 PDF issues for 9.99***

We accept checks
from US banks.
Subcription Mail-In Order Form

Coming in the September/October Issue

Contemporary

Her Renegade Cowboy by Lora Leigh

The Lights of Sugarberry Cove by Heather Webber

Recipe for a Homecoming by Sabrina York

Historical

The Highlander's Pirate Lass by Heather McCollum

When a Duke Loves a Governess by Olivia Drake

Paranormal

Layla by Colleen Hoover

Mystery

Bring Her Home by S.A. Dunphy

The Girl Upstairs by Georgina Lees

The Hidden by Melanie Golding

Secrets to the Grave by Steve Frech

Swindler's Revenge by Ellen Butler

Booty

Bloodless by Preston & Child

Forgotten in Death by J.D. Robb

Good as Dead by Susan Walker

Her Perfect Life by Hank Phillippi Ryan

Stranded by Sarah Goodwin

Trick or Treat by Katarina Diamond

Children's

Nature Ninjas by Kayla Klassen

Lou the Poo by Gasper

July/August

Contemporary

The Dating Dare by Jayci Lee

The Memory Bell by Kat Flannery

Historicals

A Duke Worth Fighting For by Christina Britton

Highland Legend by Kathryn LeVeque

Paranormal

Craven Manor by Darcy Coates

Mysteries

Danger at the Cove by Hannah Dennison

Happily Ever After by Alison James

Her White Lie by Jackie Walsh

The Last Time I Lied by Riley Sager

Left for Dead by Caroline Mitchell

The Purple Lily by L.C. Ahl and Cb Hartwell

Small Bones by Kerry Buchanan

The Stowaway by James S. Murray and Darren Wearmouth

Truth and Lies by Caroline Mitchell

Audiobook

Sweethand by H.G Pelier

Booty

Careless Love by Steve Zettler

She Wouldn't Change a Thing by Sarah Adlakha

The Sinful Lives of Trophy Wives

Children's

Seaside Countdown by E. Ryan

YA

Jeremy and the Witches' Medallion by Randy Gauthier

May/June

Historical

Tempting Fate by Kerrigan Byrne

When a Duke Loves a Governess by Olivia Drake

Erotica

The Monster Keeps Me Safe by Kitty Thomas

Mysteries

Blood Stained by Rebecca Bradley

Faux Friends by A.J. McCarthy

Flesh and Blood by Carline Mitchell

A Trial of Lies by Kylie Logan

Wild Ride by Jane Tesh

Booty

The Bridge by J.S. Breukelaar

The Executive Order by David Fisher

Falling by T.J. Newman

A Head Full of Ghosts by Paul Tremblay

Knife Edge by Kerry Buchanan

A Peculiar Combination by Ashley Weaver

Tempting Fate by Kerrigan Byrne

Tecknitrex by James Quinn

The Playdate by Victoria Jenkins

Unintended Target by Katie Reus

Young Adult

Counting Down With You by Tashie Bhuiyan

Instructions for Dancing by Nicola Yoon

Children's

Slow Moe Gets a Tasty Treat by Rebecca Rae Williams.
What's Inside
How to Write a Successful Query Letter
Editorial: Fathers
Romantic Traveling: Paris
Kat Martin
Ester Lopez
Sneak Peeks:
The Perfect Murder
Golden Idols

Reviews, Reviews and More Reviews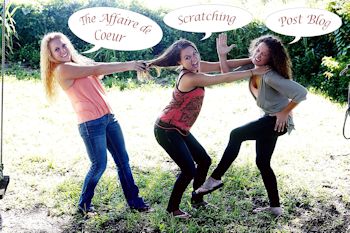 ... ...